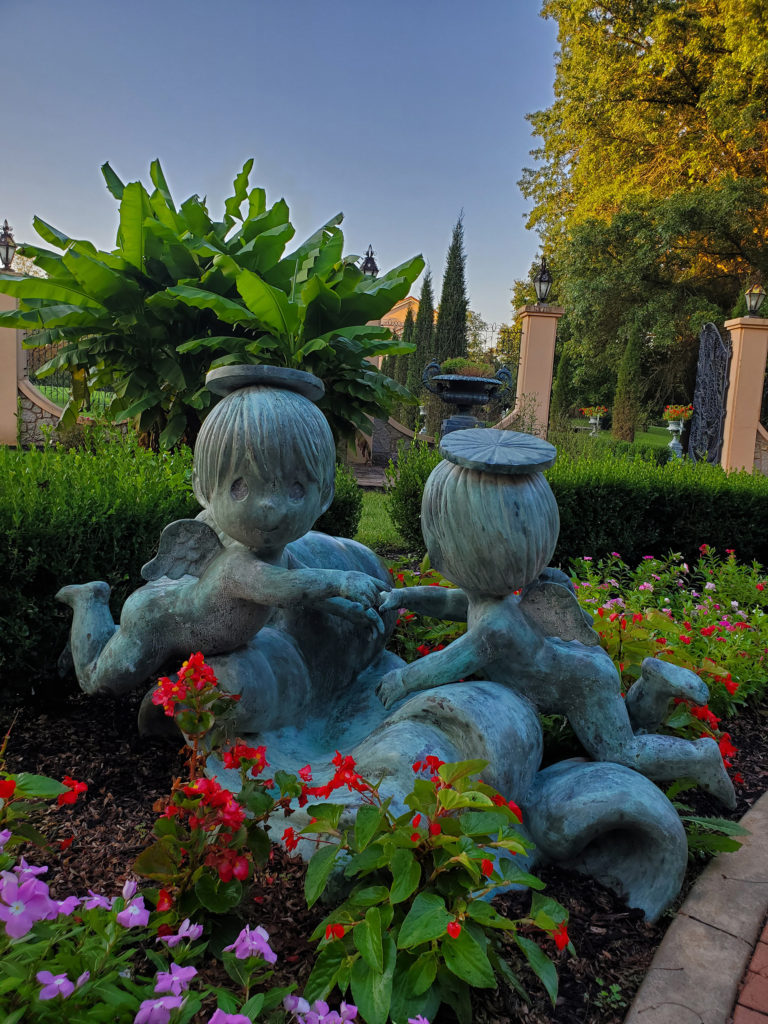 The tranquility of the Missouri Ozarks rolling hills, the babbling water of Center Creek, and the colorful variety of birds, bees, and butterflies surrounding the fragrant flowers offer a peaceful respite for visitors to the Precious Moments Chapel and Gardens.
Take A Stroll Along The Avenue Of Angels
Standing sentry along the walkway leading visitors from the Chapel to the Visitor Center are beautiful bronze angels. The Avenue of Angels ends at an impressive fountain and the opening of the Chapel Gate. This location makes a picturesque background for any traveler's photo album!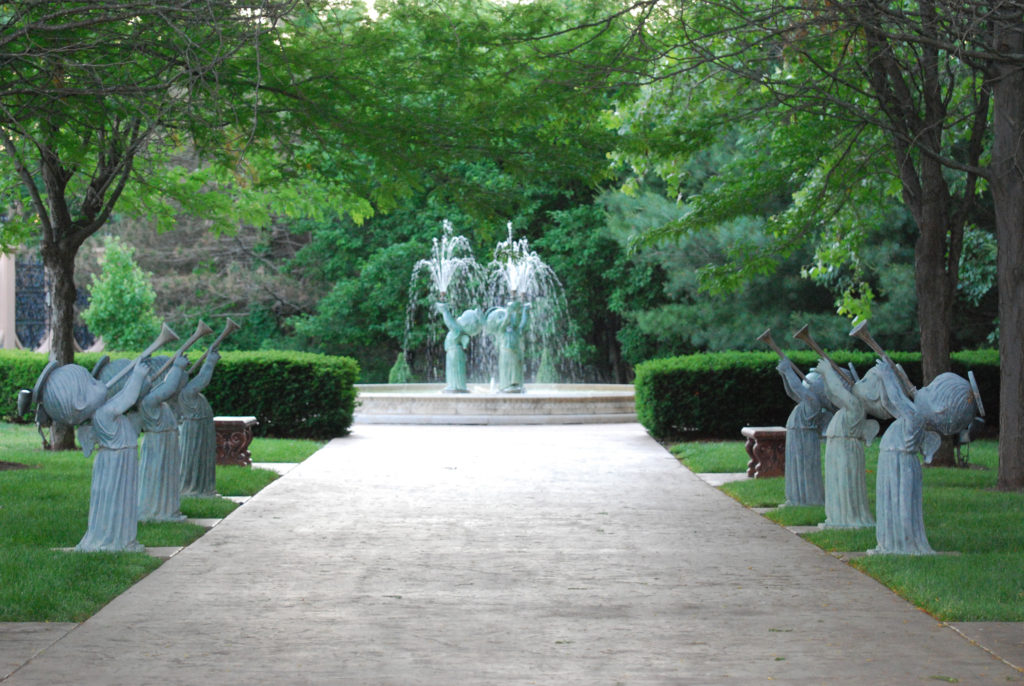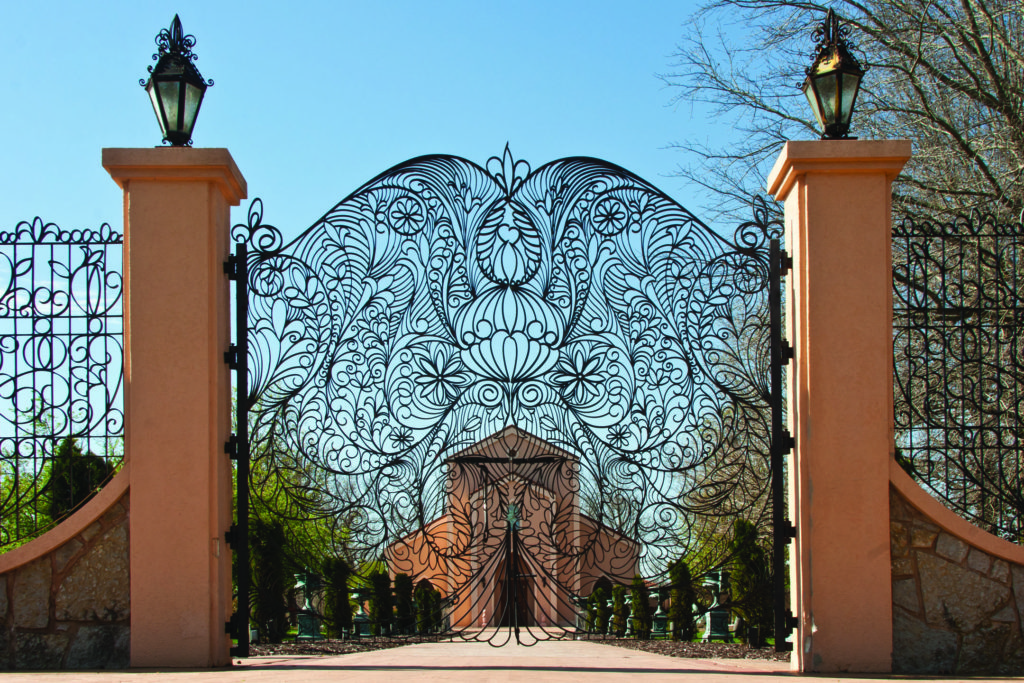 A Permanent Angel Watches Over The Chapel
What do you do when you're an artist interpreting a design for wrought iron gate to your factory, but have no pencil or paper? If you're Mr. Butcher, you draw the design in the dirt driveway of the gate-maker's factory! The original design, sketched on 4 paper napkins, incorporated multiple angels which were subsequently removed.
Upon installation, Mr. Butcher discovered the center design forms an angel with outstretched wings to permanently watch over the Chapel and its visitors.
Want to know what happened to the napkin sketches?
Learn more about the Chapel Gates in the Samuel J. Butcher Museum.
Sculptures Of Appreciation …
At the east end of the path, visitors are treated to a striking 4 ½ foot high bronze sculpture seemingly capturing a snapshot in time. Precious Moments Bronze Trilogy was designed to commemorate the 10th Anniversary of the Precious Moments Chapel in 1999. Featuring likenesses of Samuel J. Butcher, Eugene Freedman (of Enesco) and Yasuhei Fujioka (Master Sculptor), only three identical statues were ever made.
Wander to the back of the Chapel, nearing the lookout to Resurrection Cave, to find a life-size bronze sculpture of Mr. Butcher's son, Phil.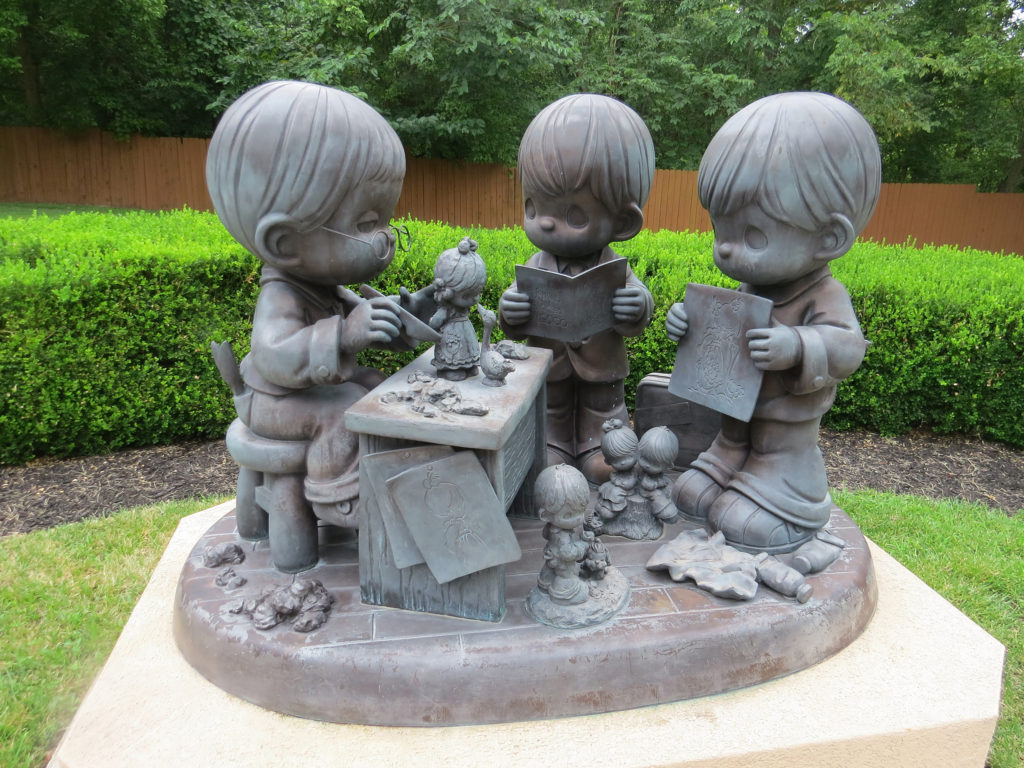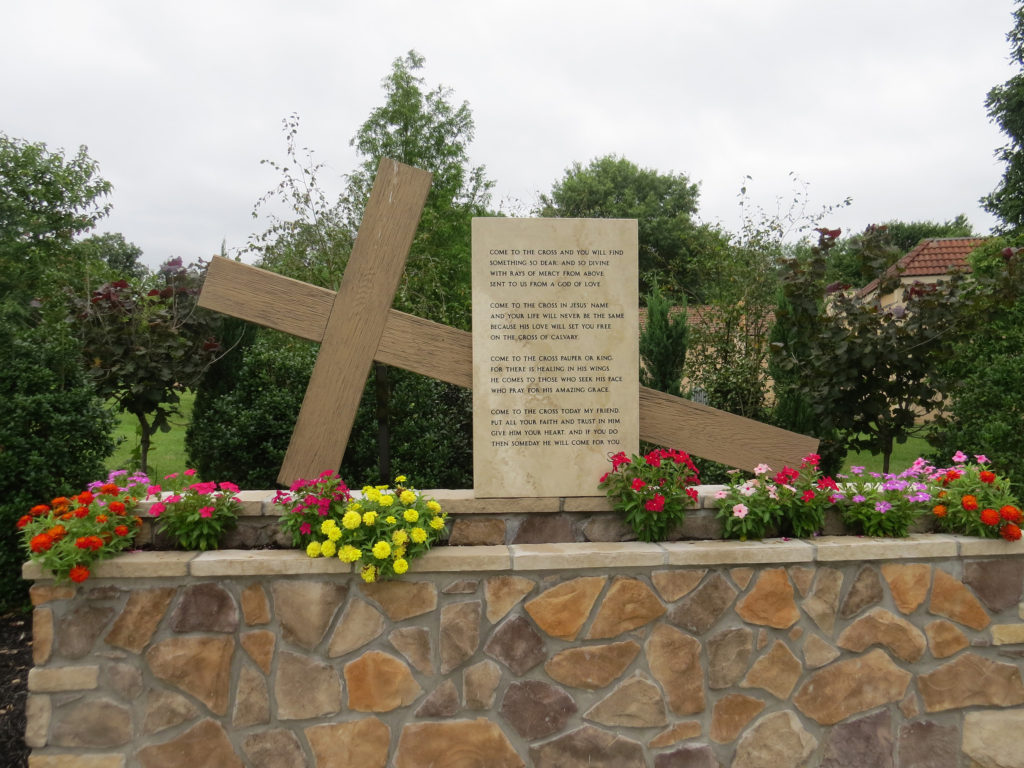 Designed in 2018, the beautiful Come To The Cross sculpture is a unique display of faith. Along with a majestic cross, visitors can enjoy one of several original poems penned by Mr. Butcher.
"He Is Not Here, For He Has Risen As He Said" – Matthew 28:6
A tall wooden cross stands in reminder. An angel dressed in white robes guards the entrance to Resurrection Cave on the east side of the Chapel gardens. The stone overlook is another location offering inspiration and comfort.
Exiting the rear door of the Chapel, visitors are welcomed into Mr. Webb's garden. Fragrant flowers envelop the small courtyard, named in honor of a former neighbor, where visitors can sit on iron benches and take in the peaceful quiet of the Chapel gardens.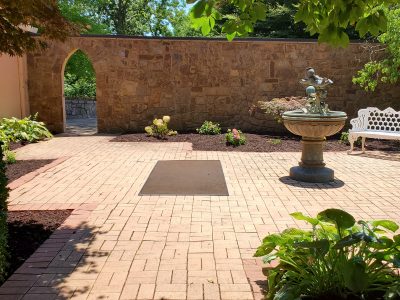 A stone overlook behind the Chapel offers another picturesque background for photos. Tucked in the center of the creek is a gift from Mr. Butcher to his grandkids. Grandpa's Island, the open-air castle is not open to the public, but has been filled with plenty of imagination and joyful laughter.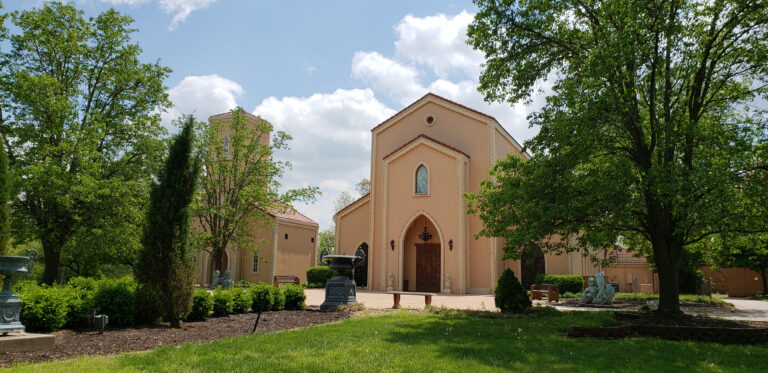 Are you ready to experience the peace and tranquility of the Precious Moments Chapel & Gardens?